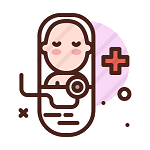 Job Detail
Job ID 40775

Experience Fresh

Gender Male/Female
Job Description
MBBS/DCH Pediatrician job are very popular among parents, and the high demand for pediatricians is only expected to continue in the years to come. Aside from their expertise in treating children, pediatricians must also be very compassionate, and be able to deal with difficult parents. This job requires an excellent communication skill, and is ideal for those who can develop a relationship with patients. In addition, the position requires a lot of hands-on work, which means they need to be strong and physically fit.
Many MBBS/DCH pediatrician job involve direct patient care. The work requires a child to receive a variety of medicines. In addition, a pediatrician can perform surgery and diagnose diseases. During the interview, a pediatrician will review a child's health history and recommend treatments. A successful candidate will have excellent interpersonal and communication skills. The ability to relate to children is crucial in a pediatrician jobs. It is important to communicate effectively with them and make good decisions is essential.
Pediatricians work with children, and provide care. They monitor the development of a child, administer immunizations when necessary, and diagnose and treat medical conditions. They also diagnose and treat injuries. They refer patients to specialists when needed. A pediatrician's job also requires meticulous records of all their interactions with patients. The requirements for this job are very diverse. When pursuing a career in this field, you should be willing to travel and spend time with your family.
Responsibilities And Roles –
Aside from being a medical professional, a pediatrician must be able to communicate clearly with children.

They need to have a thorough understanding of children's bodies and be able to diagnose them when necessary.

They must also be able to deal with their parents' concerns.

As a result, pediatricians must have strong decision-making skills, excellent problem-solving abilities, and excellent communication skills.

pediatrician's job is not easy, and there are several challenges that may hinder a person's success.
Interested candidates can forward their C.V. at DoctifyIndia@gmail.com or on 9873770804.
Role: Pediatrics Doctors

Functional area: Medical health care.

Industry: Hospitals and clinics.
Perks and Benefits: Salary Negotiable
Qualifications: MBBS, pediatric critical care, pediatric cardiology.
Other jobs you may like