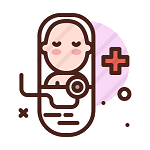 Job Detail
Experience 2 Years

Gender Male/Female
Job Description
When diagnosing children from infancy to adolescence, we are looking for a pediatrician who is an expert in this field. The happiness of a family depends on educating parents about the health and safety of their children and their nutritional and fitness needs.
Roles and Responsibilities-
1. They must be able to collect patient information and medical history.
2. They must be able to prescribe and administer treatments, medications, or vaccines.
To apply, send your resume to [email protected] or call on this no. 9873770804.
Role: Pediatrician Surgeon
Functional area: Medical health care.
Industry Type: Hospitals and clinics.
Education: MBBS/MD/DM/DNB
Perks and Benefits: Salary Negotiable
 Pediatrician skills:
1. The ability to establish contact with children is important because it can develop excellent communication and interpersonal skills.
2. You need strong management, diagnosis, and analysis capabilities.
3. Good organizational skills are required.
4. Strong leadership and teamwork skills are required.
5. As a caregiver, you must be filled with love and compassion for your child and family.
Duties:
1. Babies and children must be respected.
2. Helping newborns and patients are essential.
Other jobs you may like