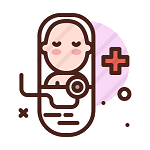 Job Detail
Job ID 38998

Experience Fresh

Gender Male/Female
Job Description
We are searching for an authorized Pediatrician to look at and treat little patients and help in forestalling infections and ailment complexities. Crafted by a doctor can be both troublesome and requesting, and surprisingly more so with regards to youngsters. A pediatrician should direct assessments by procuring the trust and collaboration of the youngster. The ideal applicant will have intensive information on youngsters' sicknesses and the study of disease transmission just as the set up assessment systems for new born children. A pediatrician should be patient and mindful and ready to encourage long haul entrust associations with the youngsters and their folks.
Roles and Responsibilities
Recommend and decipher proper lab tests to acquire data for potential contaminations or anomalies

Get ready and manage antibodies as per the legislative immunization plan

Inspect and treat wounds and allude the little patients to doctors of different disciplines when fundamental (for example specialists, ophthalmologists, orthopedists and so on)

Exhort guardians on kids' eating routine, exercise and illness preventive measures

Keep refreshed records of patients' diseases, medical procedures or other clinical scenes (hypersensitive shocks, wounds and so on)
.
Interested candidates can submit their resumes. In DoctifyIndia@gmail.com

or

9873770804.
Role: Pediatrician Doctor
Functional Area: Medical health care.
Industry: Hospitals and clinics.
Education: MBBS/MD/DM/DCH/DNB
Perks and Benefits: Salary Negotiable
Other jobs you may like