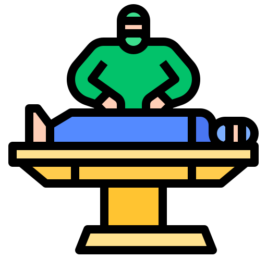 Job Detail
Job ID 40770

Experience Fresh

Gender Male/Female
Job Description
To become a general surgeon, a person must first undergo a four-year residency and work as a surgeon. In some cases, he or she may complete some of this training in a different surgical specialty. In other cases, a general surgery resident may spend as much as 12 months in another field. After the internship, a general surgeon is fully trained in the field of medicine. After their training, they can either practice general surgery or choose another specialty. A surgical specialty requires additional training, and further education and experience.
Many people are interested in becoming a General Surgeon, but the demand for trained doctors is greater than the number of available physicians. According to the Union Health Ministry, only 2% of people take up the training necessary to become a surgeon. Although there is a great demand for General Surgeons in India, a few exceptional colleges conduct their own admission procedures. For those interested in becoming a General Surgeon, there are several advantages to pursuing an MS in medicine.
Aspiring General Surgeons need to be good communicators, have strong leadership skills, and have stamina. They must have a steady hand and good eye-hand coordination to operate. Their job requires them to stay focused for long periods of time. Additionally, their hands must be supple and their eyesight must be excellent. Aspirants must pass the 12th grade and a pre-university course, and meet the required cut-off marks to become a General Surgeon.
The need for a General Surgeon in India is great. This is a high-demand profession, but the demand is also high. The job of a General Surgeon is difficult, and requires an excellent education to pursue a successful career. Nevertheless, a good career as a General Surgeon is well worth the challenge. With such a high salary, it is essential to be a highly skilled professional. So, if you want to be one of these General Surgeons, consider studying a few basic prerequisites and start working.
Role & Responsibilities
Diagnose and treat internal injuries and diseases. Prescribe medication or surgery.

Order and analyze tests such as MRIs, CT scans and X-rays

Based on the records, tests, or examinations of the patient, decide if surgery is necessary.

Examine patients to ensure that they are able to undergo surgery. Explain the procedure and discuss the potential risks.

Decide the type of surgery you need, as well as the nurses, anesthesiologists and specialists who will be needed.

Pre- and post-operative care: Order antibiotics, special diets and sedatives.

You will need to schedule operations, coordinate staff, plan procedures and order other supplies.

Operate according to accepted methods

Update and create patient records

Assist and consult other doctors.

Refer patients to specialists or other professionals.

Participate in research that involves surgical techniques
Interested candidates can forward their C.V at DoctifyIndia@gmail.com  or they can directly contact at the given number- 9873770804
Role- General Surgeon
Education- MBBS/MD/DNB/MS
Industry- Hospital and Clinics
Functional Area- Medical Healthcare
Employment Type- Full Time/permanent job/Locum
Other jobs you may like